Description
Made this because when you go into Replay the Eleven10 Factory Bikes don't show the color that associates with the bike in the standings– just a blank/empty spot. This super small mod will let you know which bike is which, whether it be Factory or OEM. 🙂 I thought it was neat! KTM 4-stroke Factory bikes aren't available yet but when they do come, I'll update this so it includes the signifiers for them.
If you'd like me to add your name, number, etc. to anything I make, or anything done completely from scratch, HMU on Discord: actuallybuzz#3552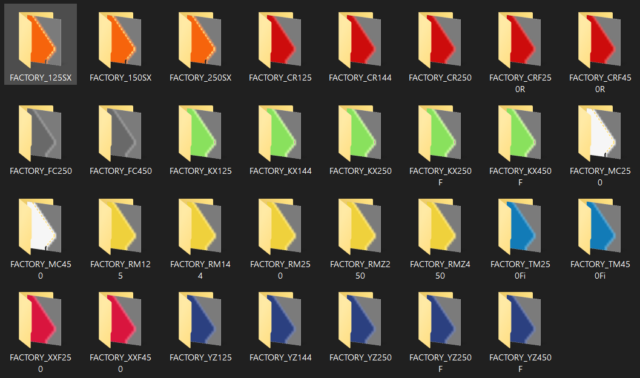 The colors that go to each bike, as reflected by the OEM color signifiers.
Mod Instructions
Double-click the downloaded ZIP file to open it.

Now drag the folder titled 'mods' into C:/Users/.../Documents/PiBoSo/MX Bikes.
Total downloads: 147
Made for Beta 18. Compatible with other Betas.